Susan Kiama
Susan Kiama is the Managing Consultant of Three Green Apples Consulting.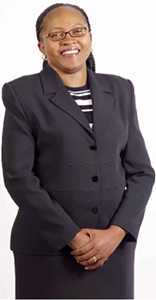 In her 20 plus year career, Susan has contributed to success of leading corporates such as Safaricom, Citibank, Deloitte & Touche and their clients, and Tetra Pak UK through participation in strategy formulation, organization design, change management; talent management; performance improvement; reward structuring; management development and learning; people planning and resouricng; rightsizing; process automation including ISO certification; and security and facilities management.
Susan is a Fellow of the Chartered Institute of Personnel & Development (CIPD) UK and a Fellow of the Institute of Human Resource Management (IHRM), Kenya. Susan chairs the Board of the Kenya Social Investement Exchange (KSIX) and sits on the Board of Directors of Chancery Wright Insurance Brokers and Allavida Kenya. Susan is a Trustees of SOS Children's Villages Kenya and she sit on the Board of Advisors of the Human Resource Management Student Association of the University of Nairobi.
Susan Kiama is a seasoned manager with demonstrated success in delivering results in complex environments. She has put together, coached and led large, diverse teams. Susan is a strong communicator with excellent interpersonal skills and a participatory approach to delivering results. Susan is adaptable to change, providing innovative, practical, and pragmatic solutions to challenges. She is decisive, energetic, and hands-on. Susan has been accountable for forecasting, justifying, expending and accounting for significant capital and operational budgets.
Susan Kiama is a Kenyan citizen and hold BA in Economics, from Richmond College, The American University in London and a Postgraduate Diploma in Personnel Management and Industrial Relations Kingston University, UK. Susan is certified and licensed to use the SHL suite of psychometric assessment tools and she is a seasoned facilitator of leadership and development programs.
---
Mercy Kilel
Mercy Kilel is the Office Manager and Training Administrator at Three Green Apples Consulting. Prior to joining Three Green Apples Consulting Mercy worked with Nesbitt, an NGO National Education for the Visually Impaired Person as a Program Coordinator. Mercy has a Diploma in Human Resource Management and is currently pursuing a degree in the same.
Muthoni Murithi
Muthoni Murithi is the Associate Consultant, Recruitment with Three Green Apples Consulting. She is in charge of the execution of recruitment consultancy assignments and supports the recruitment process in the achievement of the departmental targets.
Muthoni also supports the company's marketing and business development function.
Muthoni is a graduate of University of Nairobi, and she is currently pursuing a Higher Diploma in Human Resource Management with the Institute of Human Resource Management Kenya
Associates
Associates: Three Green Apples Consulting Limited has partnership agreements with qualified Associate Consultants, who are the best in class in their respective fields. Our Associate Consultants have significant experience in both their technical field of expertise and general management as well as being seasoned in delivering transformation and value-adding services.
Contacts
Phone: +254 (020) 311 438
Fax: +254 (020) 221 5956
Telkom: +254 20 358 4847
Safaricom: +254 (0)722 540 625
Zain: +254 (0) 735 540 632
Email: info@tgagroupea.com